Porcini Cured Beef Rib Eye
Created by Chef Derek Dammann, Maison Publique
Enjoy this rib steak prepared with a rub of Knorr® Intense Flavours and dried mushroom, picking up the charcoal grilled flavours and rich quality of the meat.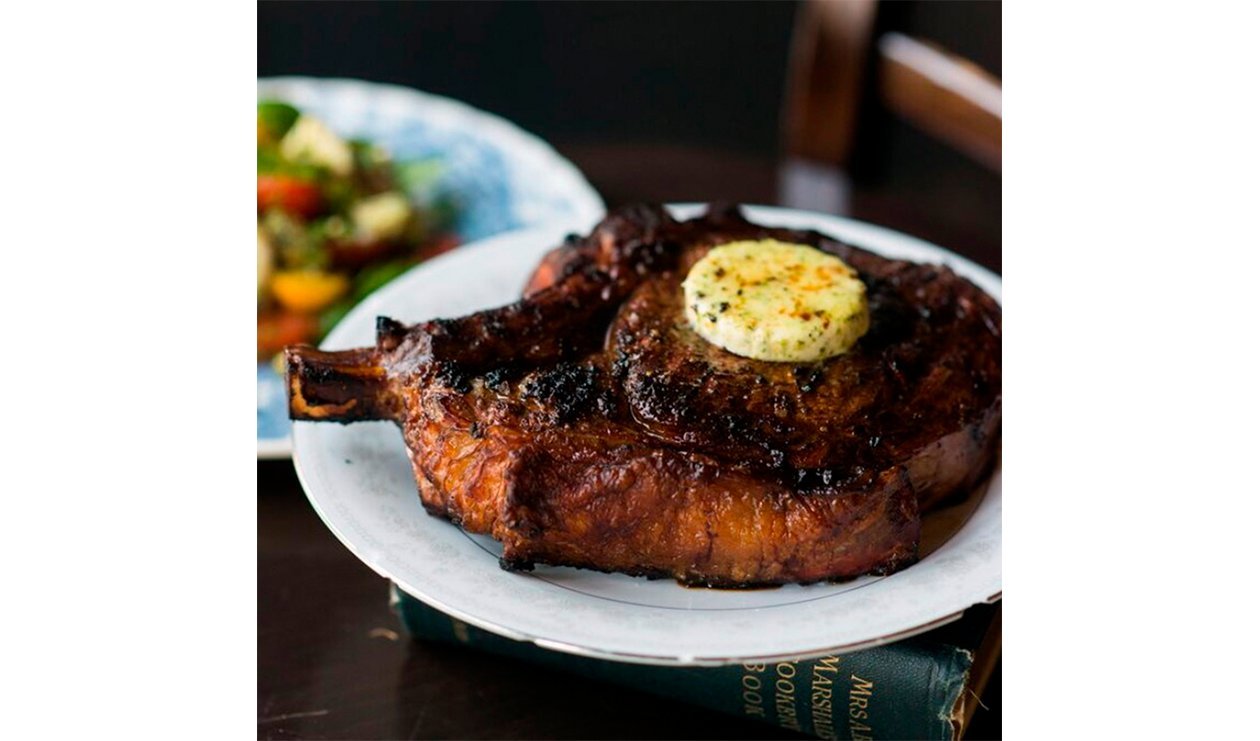 Ingredients
Prepare the Steak Rub
Garlic, peeled and made into a paste

10 cloves

Porcini mushrooms, dried

20 g
Prepare the Compound Butter
Chives, fresh, finely chopped

3 g

Curly parsley, finely chopped

4 g

Chervil, finely chopped, fresh

3 g

Tarragon, finely chopped

6 g

Finely grated zest of a lemon

1 each
Prepare the Steak
Bone-in rib steaks cut 5 cm thick (about 1 kg each)

3 each

Flakey sea salt, as needed

Lemon, juice only

0.5 each
Preparation
Prepare the Steak Rub

In a mortar, combine the garlic, mushrooms, sugar, kosher salt, chili flakes and black pepper.
Pound with a pestle, making sure to process the garlic and mushrooms to a paste.
Stir in the oil and Knorr Ultimate Intense Flavours Wild Mushroom Earth Liquid Seasoning.
The rub will keep for a week refrigerated.

Prepare the Compound Butter

Place all of the ingredients in the bowl of an electric mixer fitted with the paddle attachment.
Process on medium speed to combine everything thoroughly.
Transfer the mixture onto a sheet of plastic wrap and roll into an even log and refrigerate until you are ready to use it.

Prepare the Steak

Massage the steak rub liberally into both sides of the meat. Transfer to a non-reactive container, cover and refrigerate for 24 hours.
Remove the steaks from the fridge at least 3 hours before you plan on grilling it. Wipe off the excess rub.
Prepare a charcoal grill. When the coals are broken down and glowing, place the steaks on the hottest part of the grill and sear on both sides until you achieve a nice char. Move the steaks now to the cooler part of the grill and continue cooking, flipping occasionally, until you reach an internal temperature of 120F (48C) for a perfect medium rare, about 40 minutes total.
Remove the steaks from the grill and allow to rest for 30 minutes before slicing (the internal temperature will rise to 125F/50C during resting).
Serve the steaks with the compound butter and little pots of flakey salt for your guests to season as they wish.
Stir some of the good olive oil and lemon juice into the resting juices of the steaks and spoon this over the sliced meats.