Cauliflower Burger with Apple Carrot Ketchup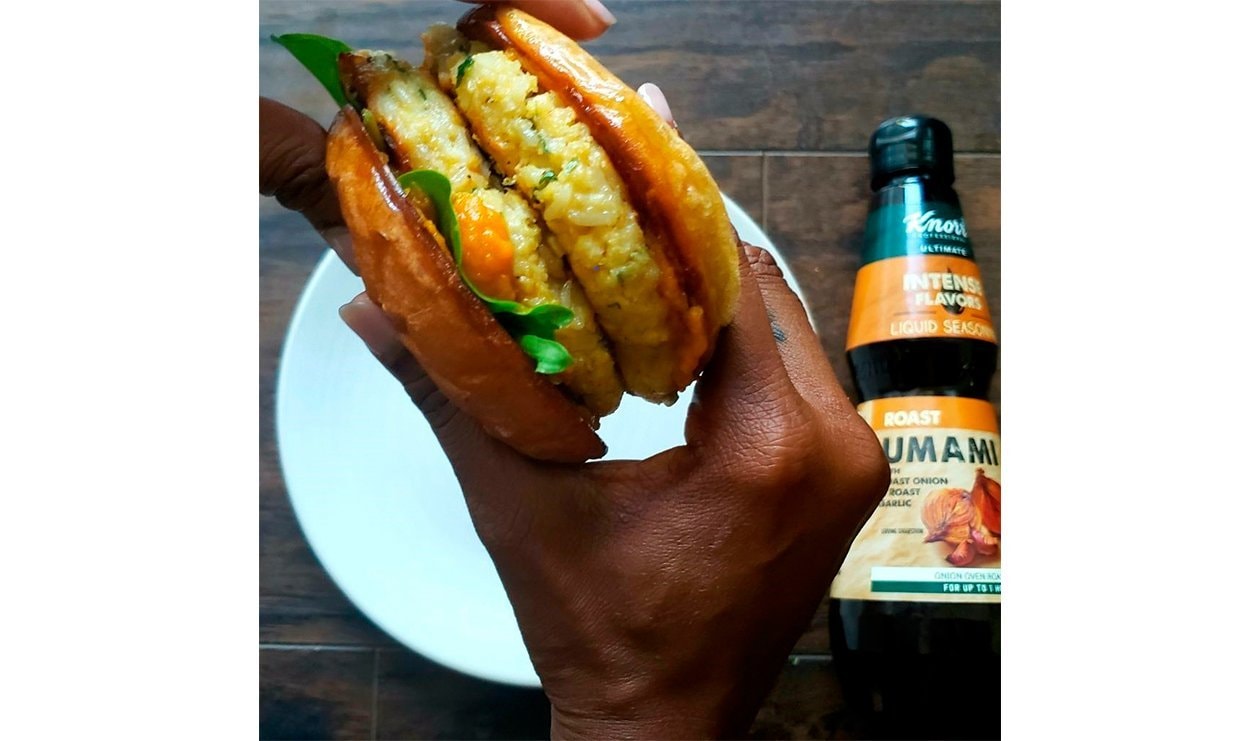 Chef Nyesha Arrington's plant-based take on a burger, featuring Knorr Intense Flavours Roast Umami mixed into cauliflower patties for a boost of caramelized onions and roasted garlic flavour, topped with a savoury apple carrot ketchup. 
...
Ingredients per serving
Prepare the Cauliflower Patties
Cauliflower, cut into florets

2.0 heads

Extra virgin olive oil

35.0 ml

Long grain white rice, cooked

625.0 g

Panko bread crumbs

45.0 g

Eggs or egg substitute

2.0 each

Knorr® Professional Intense Flavours Roast Umami 4 x 400 ml

30.0 ml

Fresh parsley, washed and roughly chopped

5.0 ml

Black pepper, ground

2.0 ml

Fresh rosemary, chopped

1.0 ml
Prepare the Apple Carrot Ketchup
Carrots, peeled, 2.5 cm cut

450.0 g

Gala apples, peeled, deseeded, chopped into 2.5 cm pieces

3.0 each

Shallots, sliced

4.0 each

Apple cider vinegar

60.0 ml

Apple juice, unsweetened

500.0 ml

Thyme sprigs, fresh

1.0 each

Ginger, peeled, minced

5.0 ml

Cumin seeds, ground

2.0 ml

Himalayan pink salt

5.0 ml
Prepare the Burgers
Burger bun, toasted

10.0 each

Leafy greens (of choice)

0.5 head
Preparation
Prepare the Cauliflower Patties

Preheat oven to 200 C. Spread cauliflower out on a baking sheet, drizzle with olive oil, salt and pepper. Roast for 15 minutes until just starting to turn golden brown. Remove from oven and allow to cool.
Add the cooled cauliflower to a food processor and pulse until the cauliflower is "riced" meaning the florets have been broken down into small particles similar to rice, but not mushy. Looking for finely chopped cauliflower. Transfer to a large bowl.
Add the rice, cashew cheese, breadcrumbs, eggs, chili powder, cayenne pepper, parsley, rosemary, Knorr Intense Flavors Roast Umami and pepper to bowl. Stir until combined with desired texture.
Form the mixture into 10 patties and place on an oiled baking sheet. Return to oven and bake for about 20 minutes, flipping burgers halfway through.
As burgers are coming out of the oven, apply the lemon zest. Set aside until ready to build.

Prepare the Apple Carrot Ketchup

Place the carrots, apples, garlic, ginger, shallots, in a heavy bottomed sauce pot with olive oil.
Sweat vegetables on low heat until soft, add tomato paste, continue to cook on med-low heat until tomato paste is caramelized, add apple cider vinegar, carrot juice, apple juice and bring to a boil.
Reduce heat to low, add remaining ketchup ingredients, cover and simmer for about 15 minutes, until the carrots and shallot are very soft, and the liquid has reduced by half.
Transfer ingredients in a blender and process until smooth.
Transfer the mixture to a small saucepan and bring to a boil, then simmer at medium-low for 20 minutes.

Prepare the Burgers

Assemble the burgers on a bun by spreading the ketchup on the top and bottom of the buns, patty in the middle, desired leafy greens and top bun.
Serve immediately.