Peanut Salsa Chicken Salad
Crunchy green salad with Cilantro Chili Dressing topped with a sticky miso grilled chicken breast and garnished with warm peanut salsa.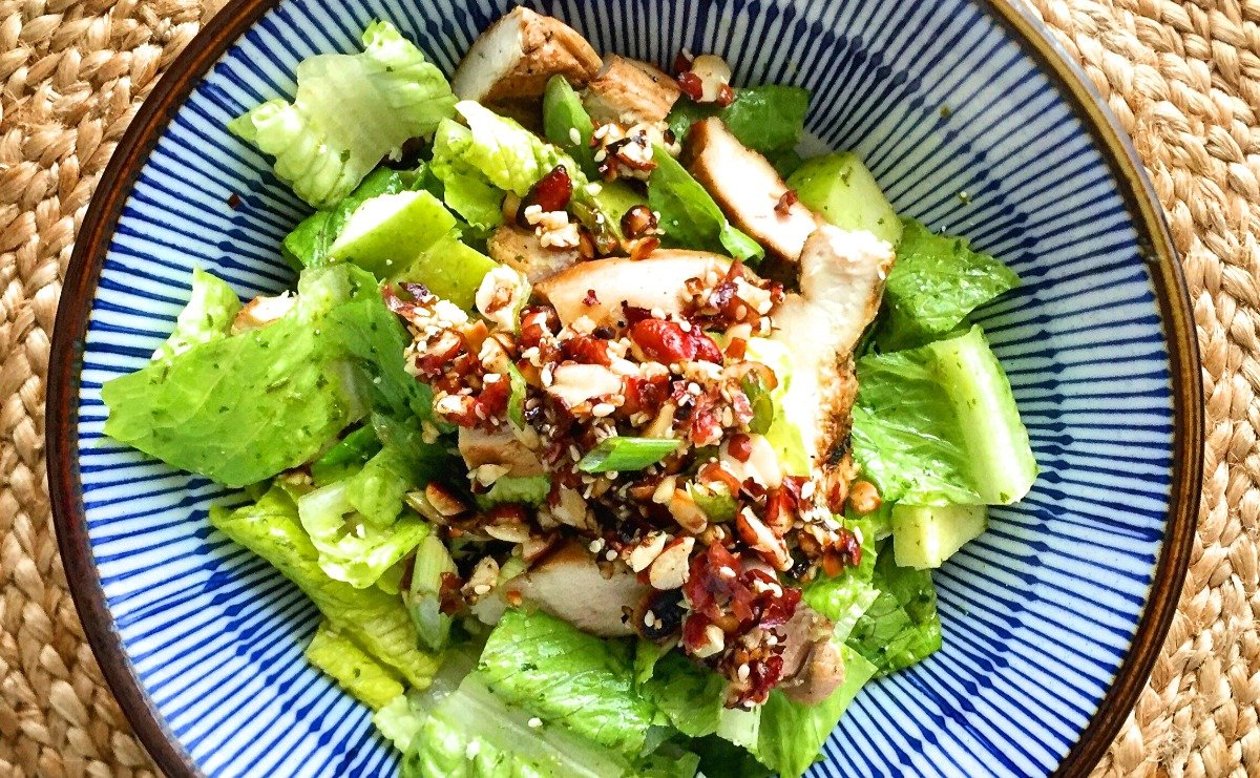 Ingredients
Marinate the Chicken
Soy sauce, low sodium

60 ml

Chicken Breast, boneless, skinless, butterflied

1.5 kg
Prepare the Peanut Salsa
Peanuts, raw, chopped

500 ml

Sesame seeds, toasted

15 ml

Red pepper flakes, crushed

10 ml
Assemble the Salad
Romaine lettuce, chopped

3 heads

Green apple, diced

3 each

Feta cheese, crumbled

500 ml

Cilantro, chopped

0.5 bunch
Preparation
Marinate the Chicken

In a bowl, whisk garlic, soy sauce, brown sugar, sesame oil and Knorr Intense Flavour Miso Umami in a small bowl until sugar dissolves. Pour marinade over chicken in a sealed bag. Chill at least 1 hour and up to 1 day.

Prepare the Peanut Salsa

In a sauté pan, heat olive oil and peanuts over medium heat, swirling occasionally, until peanuts are very faintly sizzling and turn golden, 6–8 minutes. Remove from heat and stir in garlic, sesame seeds, and red pepper flakes. Let cool. Stir in Knorr Intense Flavour Citrus Fresh and maple syrup. Season salsa with salt; set aside.

Grill the Chicken

Over medium heat, on a grill or cast iron pan, cook chicken, flipping once, until cooked through. Remove from heat and let sit.

Assemble the Salad

In a large bowl combine lettuce, apple, feta, avocado, cilantro and Hellmann's Hatch Chile Vinaigrette. Season with salt and pepper if desired. Top salad with sliced chicken with peanut salsa.